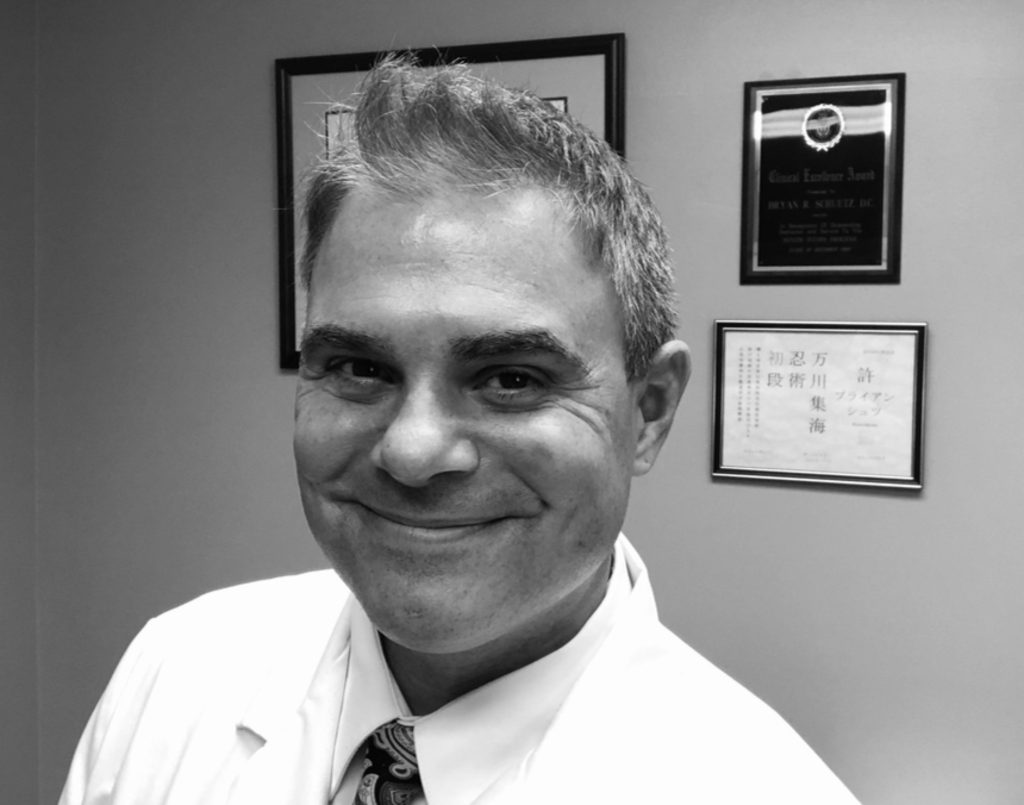 Hello my name is Dr. Bryan Schuetz of The Columbus Chiropractors and I was raised in Eastern Ohio.
I decided to become a chiropractor after experiencing an injury in college while lifting weights. One day I had a heavy weight on my back when I heard a "SNAP" and fell to the floor. I could not get up and soon realized that I was paralyzed from the waist down. Not a good feeling for a 19 year old.
I was carried into to my medical doctor who made a surgical referral and sent me on my way. I decided to call my uncle who is a chiropractor in Denver and he gave me a referral to see a chiropractor in my area. I figured what do I have to lose?
My chiropractor took X-Rays of my spine and explained to me that I had a bone that was shifted out of place and was pinching a nerve in my back. He said that by adjusting the bone back where it should be would relieve the pressure on the nerve and restore proper function to my body. He was right. I did not dance out of his office that day but I did walk out and that was a great improvement great after being carried into the office just a short time before.
My chiropractor helped my spine to heal over the next few months and explained that regular spinal check ups would help to keep my spine strong and flexible as I got older. Not only was I out of pain but had better sleep, better clarity, and even better workouts! Over the time I was under care I decided that having chiropractic care made such a difference in my life that I would become a chiropractor myself and help everyone I could to experience the natural healing I had in my life.
So I was off to graduate school a few years later in Atlanta Georgia. I really loved spending time learning my craft and gaining knowledge to help my patients. During my last year of school I was blessed with my first son Robert. Robert's birth was one I will remember forever. He was bigger than expected and he was badly injured upon delivery. He had both arms broken and had nerve damage in his cervical spine. You see, they grade a baby's health on a scale of 1-10 with 10 being the best at 1 minute and 10 minutes after birth. Robert was a 1 at one minute after birth. Things looked bad until I did what I knew I could do to help. Robert got his first chiropractic adjustment when he was 1 minute old and his eyes popped open for the first time. After his 10 minute score he was an 8 of 10. This meant he would most likely survive.
The doctors diagnosed Robert with Erb's Palsy because of the damage to his neck and said he would never be "normal." They advised us that he would have many health problems and that he would be inactive and probably overweight if we weren't careful.
Well they could not be more wrong and they could not be more right. Anything but "normal," Robert kept receiving chiropractic care and exercised throughout childhood and has become quite an athlete. He excels at Lacrosse and Golf. He graduated high school with honors and is in the honors program at Ohio State. I sometimes wonder how things would have turned out if I had not experienced my injury as a young man and decided to become a chiropractor after my healing. I am so happy I could be there for my son and now all the other people I have shared chiropractic with over the past 25 years.
Thank you for taking the time to read a little about me and for visiting www.TheColumbusChiropractors.com. I look forward to learning more about you and how we can help you to experience better health through chiropractic care.
-Dr. Bryan Schuetz
---
Dr. Bryan has been serving the Columbus Ohio Area since then at Capital City Chiropractic. He writes for The Columbus Chiropractors on a variety of topics. He lectures nationally on a variety of health related issues and is a frequent radio and television guest. He enjoys boating, snow skiing and practicing martial arts. Dr. Bryan is also an expert in nutrition counseling and is certified hypnotist. He writes a free motivational moment for patients and friends at his
website www.daily-motivational-quote.com